All Things Bunny: Crafts & Activities
Hello families of Kid Ventures!  With Easter just around the corner, we are getting into the spirit at Kid Ventures with all things bunny!  Our theme of the week is Funny Bunnies and so we'd like to share some of our favorite rabbit-related crafts and activities!
Materials needed:
hot glue
Yarn – color of your choice
felt – for ears
googly eyes
small, store-bought pom poms – for nose, tail, cheeks
ribbon – optional
Click on the link for step-by-step instructions on how to make these adorable Easter basket stuffers!
This is a fantastic craftivity to get your kids writing and thinking creatively!  You can purchase the template by clicking on the title or make one of your own!
We love paper plate crafts–they are so easy and you probably have all of these materials at home already!
Materials Needed: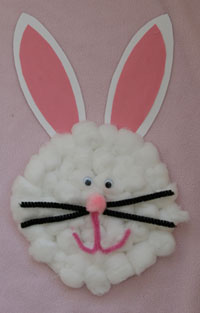 Paper plate
Cotton balls
White poster board or heavy construction paper
Pink construction paper or pink crayon/marker
Black and pink pipe cleaners
Pink pompom
2 googly eyes
Scissors
white glue
Here's another creative way to use paper plates to get into the Easter spirit!  Your kids will be hopping all over this one! 🙂